After 160 years of providing a grand entrance to Whitton Tower, two large mature Beech trees have come to the end of their life.
Just like humans they are prone to diseases and pathogens. The trouble is, these pathogens can undermine a tree's stability and when a tree looks perfectly good and healthy, inside it may be a different story.
A detailed study by AllAboutTrees has showed that there is little substance beneath the skin of both trees. That means these trees may fail at any time, endangering life and property. So their removal has been planned for the week commencing 17/09/2012.
These trees are not only in Whitton conservation area but they also come under a group TPO (Tree Protection Order). The Planning department have been notified of the emergency work to be carrried out.
The removal of a large tree requires a sound team of tree surgeons - So on Monday Graham Noble of Thrum Mill Farm Ltd and his team arrive to safely remove the Beeches.
As the new owners of this beautiful property we are very saddened that these trees have to be felled. We hope the overall look will, in time, return. We are currently looking into the best replacement tree, bearing in mind that we are unable to replant another Beech, due to the pathogens in the soil that Beeches are susceptible to.
At this moment in time it's looking like the Hornbeam, which is a member of the Birch or Hazel family but looks remarkably like a Beech, is becoming our favourite.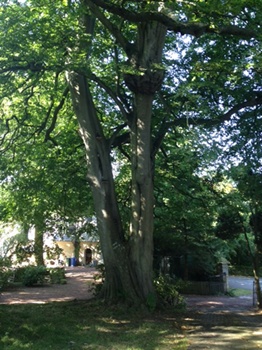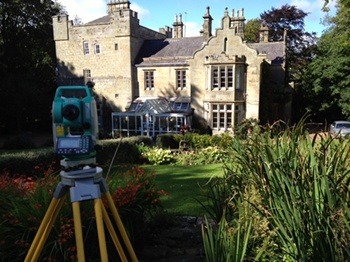 14/09/12 The Surveyor arrives (amrGeomatics Ltd)
Taking a detail survey of the Rectory and surrounding land. They have some incredibly sophisticated equipment these days. Beats the Romans with their three sticks.
Not what you want to happen late on a Friday night (17/08/12) - Hoped it was oil (black gold) but no, just good old water coming up from the mains water supply.
Martin and mates called in to trace the problem - Tricky - could have had that swimming pool I always wanted, and nearly had the car in it too.
Most of the time digging blind as the water keeps coming. Delicate touch by Daren on the mini digger, soon found the problem and the pipe had a new jacket to stop the leak - these pipes are very old cast iron, and are now showing their age.
Time to get a new water supply!
18/08/12 Water Bubbling up from the ground (no water indoors)
01/06/12 New Owners (at least one of them the other is taking the picture)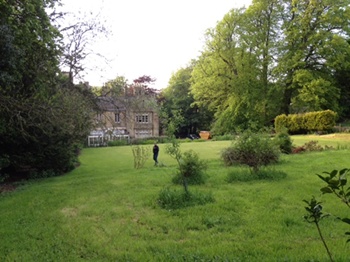 Just checking how many goats we will need to keep the grass down. (joke!)
14/09/12 - Two Beech trees have to be removed for safety reasons.
27/09/12 - Two new arrivals (Nina and Nancy).
Nina and Nancy arrived today to start their convalescence. They were found abandoned when the North East RSPCA took them in and looked after them, did the usual veterinarian things, gave them a clean bill of health and started to look for a perfect home. I think they might have just found one. These are not your average cats and are untrusting to humans - except one, Jenny who connected with them and started the process of adoption. The trouble is you can't help get attached to these beautiful creatures. Nina and Nancy will be working cats and hopefully they can earn their keep by keeping the mice population down.

They will remain known as Nina and Nancy.
More pictures to come later when we have encouraged them out from their new hiding places. They do come out as we have spotted them at their food trays. So, they seem happy enough to eat and drink.
28/09/12 - Me Wow!
Nina came out from hidding while I was recharging their food bowls, the food is winning them over - just a few minutes later, out popped Nancy, she took one look at me and tucked in to her fish supper - after they had their fill both stretched every muscle then slipped away again.
A great end to the day too - eventually played with Nina - with a typical cat and mouse game.
01/10/12 - New Water Feed - soon to have own meter
It's all happening - Lee Charleton and Richard laying the new UPVC pipe work. Lots of tree roots, pipes and drains down there.
It's a lot easier with the digger. Can't use the drive again, hope that inspector come soon.
Inspector arrive next Monday
07/10/12 - Nina & Nancy making good progress.
Both Nina and Nancy are now exploring beyond their room. They came out last night, it took a couple of hours for them to make it down stairs and enter the drawing room. Nina is the more inquisitive cat, she was called back by Nancy when she had been gone too long, it was a strange cry which Nina responded very quickly, by running back to reassure Nancy all was ok. Nancy comes with Nina now.
08/10/12 - New Water Feed inspected
Just a small addition 3 metres to go. Shame New Development could be more accurate with where they wanted the pipe to go. Still not long now, request gone in to be connected up. Then we can disconnect the other source.
12/10/12 - Surveyor's Boundary Report in.
01/11/12 - Holly Trees Removed
After the clear up the ground will be prepared for the new trees to be planted - Japanese Red Maple, Japanese Dog Wood, Mountain Ash.
25/10/12 - Planners give go-ahead for Work on Holly trees
19/10/12 - Planners Final discision day has passed on Holly Trees Work request.
Someone reported that we had already started the work - fancy that!
Well after a quick set of emails and a phone call with the planners it all seems ok, and suppported by correct documents and followed the correct procedures.
The planners were very helpful and I would recommend working with them. But it seems that we may have to wait a little bit longer for the go ahead on this work request.
19/10/12 - Confirmation of date to connect the water - November 5th.
A bit worring connecting up on bonfire night
15/10/12 - Confirmation: Inspector passes Water Pipe work.
Development team informed: inspection passed and ready for connection
06/11/12 - Northumbrian Water connection made at the mains -
Showing a good pressure 4 Bar. Appologies to all users of Carterside Road for the inconvienience of a rather large hole in the road. They (Northumbrian Water) said it will be filled in the next 2-3 days
Now to disconnect the shared water and connect our own water (meter) at the house - planned to be on Thursday 08th Nov.
09/12/2012 - The Cats are six months old.
Nina and Nancy are now six months old they have come a long way since being found by the RSPCA.
Here they are getting their picture taken - watch the birdie girls...
20/12/2012 - Trying to get a woodburner in before Christmas
This was a big ask - of Graham Senior and his team just a week before Christmas, we rang around our local builders who just couldn't fit it in. Graham though, pulled out all the stops and did a great job. Unfortunately my decision and measurements were just an inch or two out and the Clearview 750 that I bought was just was too big. However, Graham and his crew managed to open up the gas fire chimney and turn it into an open fire for Christmas as phase 1. In January 2013 he'll install a vision 500 to heat the center of the house.
They had to clear out 30ft of Sticks, twigs and sheep's wool from the Crows and Jackdaws nesting teams. The soot that came down was unbelievable. But after a day of cleaning up we have a beautiful open fire in the hall, a perfect reception for our friends and family for over Christmas. A special Thank-you to Graham and his team who left here soaked to the skin and covered in soot.
Here's a before and after picture.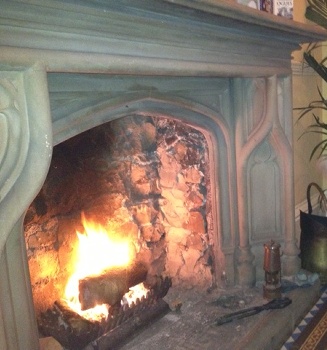 25/12/2012 - Deer on Chrismas Day
Watch Video: Deer at Christmas
Sometimes there are some coincidences which are just unbelievable, here is one, three deer come into our garden on Christmas day.
Couldn't see santa though!!
07/02/2013 - Norther Powergrid - Emergancy Called out
Northern Powergrid had to be called out due to a Neutral fault on their Service. They worked till the early hours of the morning (3AM) finding and fixing the problem. A major hunt trying to identify the cable run, with false readings giving them a bit of a run around. Finally they had to trace the cable by hand and shovel (and a mini digger). The fault was trace to our neighbour's drive, which took a bit of a hammering and the loss a lot of drive chippings - They weren't so happy in the morning with the state of their drive. At least the electrics were now safe. We'll have to see what they (Northern Powergrid) will do to sort it out for them. They are great neighbours and very understanding too, they really don't need extra work. - Just a few days later the final tidy-up crew came on their own account (we couldn't get through) and brought the pink gravel that had gone missing. Good on Northern Power Grid.
14/02/2013 - New Water feed connect to home.
Finally, today, saw the new water feed being connected to our home. The shared supply being capped off. Water pressure is very good and is up on the old feed.
Life will be a lot simpler being on our own meter, and no-longer part responsible for the state of the old cast iron pipe, which has fractured twice in the last 4 years.
14/02/2013 - New Log Burner for the Hall.
Having been told that we must invest in a log burner - we have finally had one installed - however this was a lot of work as the previous fire was Gas and the chimney was blocked off. That turned out to be by crows and rooks etc. We did have an open fire for Christmas, that the family really enjoyed. We are sad to see the real open fire go because it was so pleasent. The big problem now is that our wood is too young and won't be ready till October. The new Log burner does look the part though, can't wait to use it.
10/04/2013 - The Pond Removal.
The Pond is to be removed today.
...Later this day:
An artefact of a previous troubled relationship has been removed.
Going.... Going..... Going.... Gone! - All that is left is a deep scar!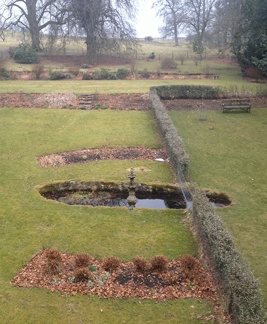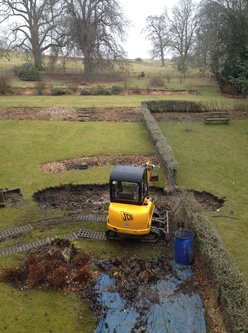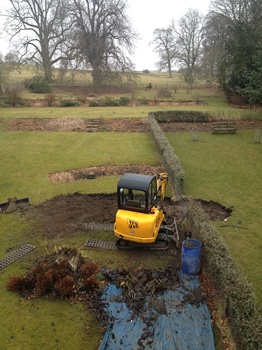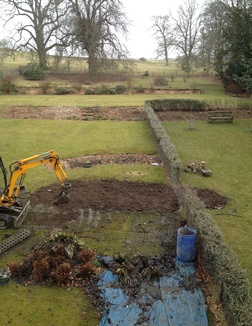 23/07/2014 - A Year on from the Pond removal.
Well it's been a little over a year, since the pond was removed. So I thought I would show what it now looks like, the centre piece is now a regular shape with some original plants remaining, however the flower bed had been cleared and replanted, with some beautiful roses added.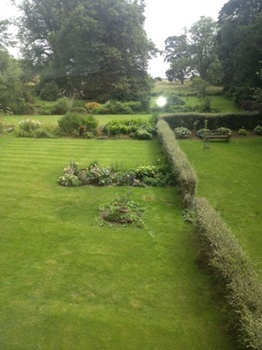 01/11/2014 - Neighbours retaining Wall.
A retaining wall errected by Lee Charleton in-keeping with other walls of the Coach House. It's a great skill to choose your stones and design a wall like this. which Lee has in abundance. Just about to make some finishing touches to the wall.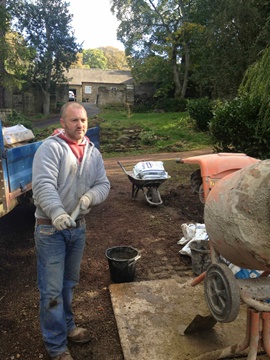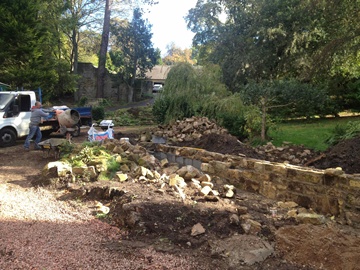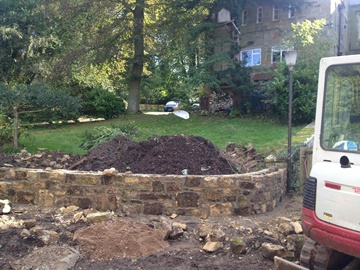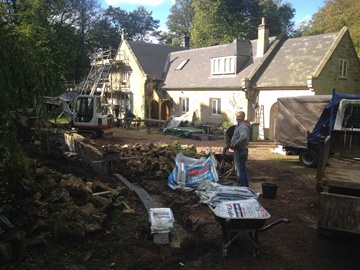 02/11/2014 - Chimney Linings go in.
With the help of the Northumberland Chimney Sweep, and a Listed Building Chinmey Specialist, the chimneys had their new 15 metre linings installed and it was a good opportunity to carry out some important maintenance. A big thank you to Colin and Reg.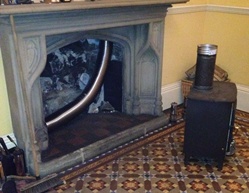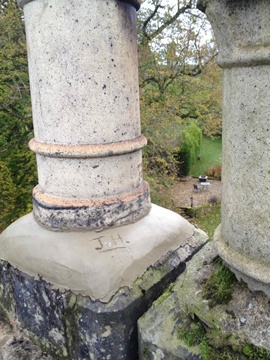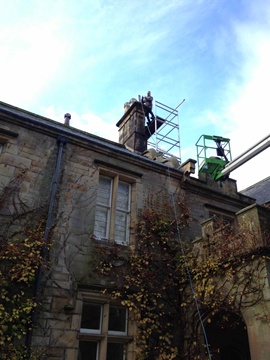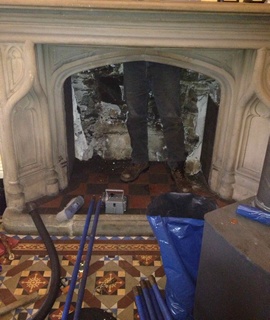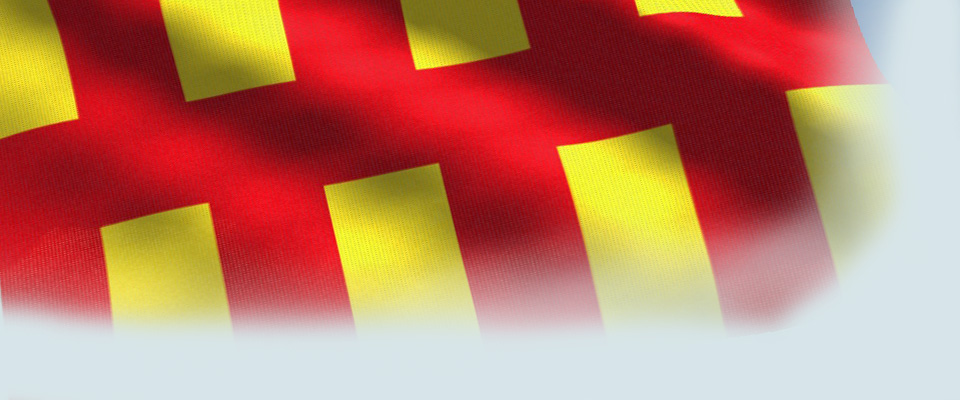 July 8th 2017
Brings together important events
Ethel Watson Children's Convalescence Home - The First Open Day
Bernard Gilpin's 500th year anniversary (1517 ~ 2017)
All Saints Church, Rothbury Summer Fayre
at
Whitton Tower - The historic home of the Rectors of Rothbury
30th June 2017 - Northumbrian Water engaged in a survey topographic assessment on providing drains to Whitton.
9th June 2017 - kicked off requesting information from Northumbrian Water, on how to connect to main Public Sewerage.
9th June 2017 - Unblocked the drains, Camera survey arranged for the 16th June with further specialist camera and sensory equipment on the 30th June. Finally we have now an underground assessment of the drains and location of water ingress.
21st March 2017 - The Burr from Beech tree which was felled in Nov 2012, was cut into 6 inch planks
Feb 2017 - Finally completed the rectification of boundaries


Nov 2016 - WTP renovation completed - approved by Northumbrian Water
17th Oct 2016 - All old TV & Telephone wires and Plant climbing wires removed from the Rectory walls

17th Oct 2016 - Climbing Hydrangea removed from upper areas
Sep 2016 - Original Dinning Room Shutters were freed and restored
Sep 2016 - Flat Roof renovated
Sep 2016 - Climbing Hydrangea causing problems with Stone work - heavily cut back allowing wall to recover.
April 2016 - Dining Room Electric Wiring completely overhauld
Nov 2014 - Planted a 30 metre Hornbeam Hedge to the South West
May 2015 - Planted additional Cotoneaster hedge in Gap left by removal of the Pond
March 2015 - Restoring fire place - Herring bone Fire place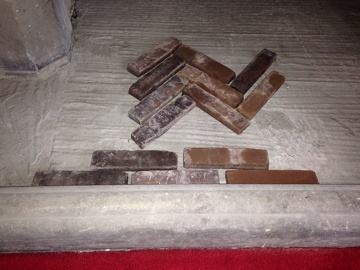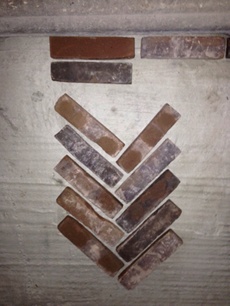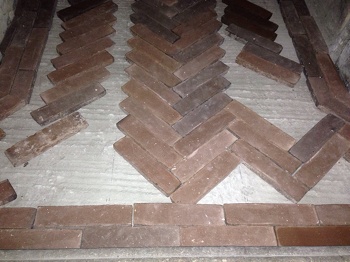 19th Aug 2017 - Visited Woodhorn Colliery - Northumbrian Archives - found more information and pictures of Whitton Tower - very interesting day out trawling through old manuscripts etc.
31st July 2017 - Contacted Listed Building & Building Regs
July 10th 2017 - Northumbrian Water
July 10th 2017 - Renovation starts
July 8th 2017 - Open Day
over 300 visitors on the day and blessed with sunshine.